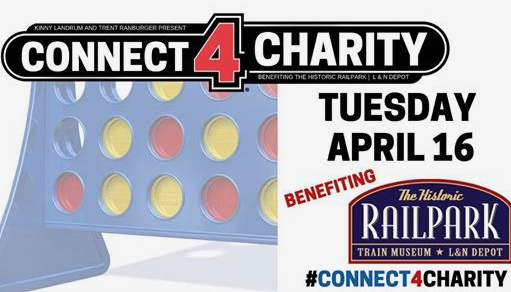 $2,000 is raised for Bowling Green, KY Non-Profits at each Connect 4 Charity Tournament
Trent Ranburger and Kinny Landrum host a charity Connect 4 Tournament at Trent Bedding once a month.  Even though there are multiple winners throughout the day, the real winners are the local non-profits that the tournament benefits.  At each Connect 4 Charity tournament, one charitable organization is selected to receive $2,000 proceeds.  Each participant pays a $100 entry fee to participate.  Each tournament is live streamed on Facebook throughout the day.
Connect 4 Charity has been very popular.  Proceeds from the first event benefitted the Southern Kentucky Kids on the Block.  The 2nd Connect 4 Charity benefitted the South Central Kentucky chapter of the American Red Cross.
Connect 4 Charity at Trent Bedding Makes Local News Headlines
The next Connect 4 Charity is Tuesday, April 16th and it benefits the The Historic Railpark Train Museum L&N Depot, an organization that is currently struggling to stay afloat.